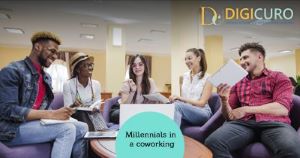 Coworking Space And Millennials: A Unique Bond
Nowadays, if you enter a coworking space, you can witness a lot of employees to be millennials. Millennials are employees who are very new to the work environment, with an age of 20-25 years. Coworking space is the upcoming new trend among enterprises.
A shared working place provides a lot of benefits to both the employers and the employees. This article is all about, "What in a coworking space actually attracts the millennials to work there?". Let us have a look at the benefits experienced by the millennials in the coworking space.
WHY MILLENNIALS AND COWORKING SPACE HAVE A GOOD BOND?
Millennials these days are very intelligent and casual. They see no benefit in renting or buying office space. They are energetic and love to work with independence and flexibility. Coworking spaces provide numerous benefits to them, which act as one of the main reasons for them in getting attracted to coworking spaces. Here are some of the reasons why millennials love coworking spaces.
Independence and Flexibility Just observe the various choices made by millennials in their day to day activities. Starting from travelling, to living in a house, they look for options. Whenever they feel bored of a thing, they start to experience other things. When they practice independence and flexibility in small activities, they definitely desire flexibility in their work space. As there is no requirement for a rental agreement and they can have a cool office with a meagre rental commitment when compared to renting an office they prefer coworking spaces more.



Cost and Resource Optimization Millennials who have just started on their own looks to cut down the cost and resources in all possible ways without reducing their comfort levels. Coworking spaces offer the millennials to pay per chair which is a benefit to the Millennials. They also provide access to facilities such as decorating the office space, housekeeping, etc. This is one of the important reasons why coworking spaces are loved by the Millennials.



No Administrative Responsibilities The Millennials duty in a coworking space is to just concentrate on their job and their next big field. The millennials don't have the burden of dealing with activities such as internet outrages, cleaning, paying bills, electricity, etc. This makes them free of any commitment, and hence they love to work in a coworking space.



Cool Work Culture Millennials always like to experience luxury things and other things which they actually cannot afford to buy. Coworking space allows the Millennials to work at their convenient location which is also well-connected to the part of the city, where renting would've been impossible for the Millennials.

CONCLUSION
From this article, you can witness the various amenities and benefits provided by the coworking spaces to the entrepreneurs. Coworking spaces are the main attraction for the Millennials. It's like a match made in heaven between Coworking spaces and Millennials. Rent out a coworking space and enjoy the amenities provided by them.