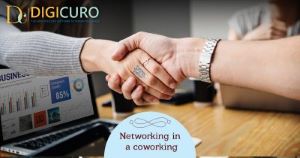 Networking in a coworking space
A next-gen machine, coworking is a powerful network that attracts a lot of young and new entrepreneurs. These people understand the benefits that can be derived from it, i.e., the opportunity of learning from others and the referral business generation which is brought upon through coworking. Thus, the emergence of networking in the coworking environment. There are some steps to be followed for the network generation in a coworking environment.
Be open Networking is not for the shy ones. The people involved in this kind of environment should be open to the idea of starting up the conversations with people that are new and unknown. The environment of working is full of ambitious people from whom a person can learn a lot. Thus, it is important to stop being hesitant and start networking in a coworking environment.
Conversation in person should be tried A human touch cannot be replaced by the modern technology of mobile phones and computer. It generates more clients and longer former relationships. Whenever a person gets time, he should opt for conversing with people face-to-face rather than on messages. It creates time to enhance the relationship and compels the person in front to come out for help. Whether it is through collaboration or generation of referrals, the decision is on the person itself.
Participation in events Coworking hubs host a lot of events making it leverage for generation of contacts. It can be done in two common ways. One is to host the event itself and throw business cards around while generating awareness among potential customers of the business. The other way is to make sure that the events hosted by other people in the coworking spaces are well attended. With this, an individual is able to generate new contacts and develop networks as it is possible that a particular kind of service is needed by someone anytime which can prove to be a game changer for anyone.
To share is to care There is always a give and take rule going around in nature. A person will only help another or provide any information if he receives help himself and gets some valuable information first or in return. One should always be ready to give out valuable contacts and information to others. The favour would be repaid soon.
Lunchtime for advantage To initiate conversation with others, the best time is a lunch break. Rest of the time, everybody is deep in their computer screens working and not bothered about others.
Online platform If many times it is not possible to converse with people in person, the conversation can be taken online. Coworking spaces can play a significant role in the development of the business as well as the growth of the career. As long as right and needful information is shared among people working in coworking spaces, the gesture would be appreciated and the help would be returned online. Thus forming networks on the online portal itself.